Once you've had enough of the surfing scene in Kuta and partying in Seminyak, you might need a bit of a rest. If that's the case, why not check out Canggu? It's the fastest-growing region in Bali, but you can still catch a slice of authentic Bali for now. Famed for its chilled out vibe, casual cafe scene, and awesome yoga retreats, it's the break from the hustle and bustle you need.
When it comes to where to stay in Canggu, it's going to break the bank if you stay in one of the villas in this coastal stretch. Better instead to look at Canggu backpackers hostels; they'll keep your costs down, and you'll meet like-minded travellers, too.
In this post, we'll take a look at ten of the best hostels in Canggu – that includes Berawa and Pererenan. No matter your budget or travel style, you're sure to find one that suits you. So, let's get started!
Quick Answer – Best Hostels in Canggu
The 11 Best Hostels in Canggu
Overall Best Hostel in Canggu – Tribal Hostel
$$
Huge coworking space
Modern, industrial design
On-site cafe
Digital nomads are running to Canggu to stay at Tribal Hostel. A remote worker HEAVEN, the sprawling space is filled with everything you need for a comfortable stay. Working spaces of every type – standing, private, communal – a glistening pool, on-site cafe and bar, a billiard table and lush green surroundings – what more do you need?! The dorm rooms are spacious and bright, and there are private rooms for those who need something a bit more peaceful. Just a short walk from Pererenan beach, and with super hands-on friendly staff, Tribal Hostel is the BEST hostel in Canggu.
$$
Swimming pool
Awesome location
Communal rooftop area
When it comes to finding everything you could possibly hope for in a hostel, look no further than Canggu's Dip & Doze Boutique Hostel. It's not the cheapest hostel in town, but it's well worth paying those extra few rupiah for the features on offer. Take some time to yourself by chilling out in the rooftop pool, or meet other backpackers in the communal rooftop area. You're just a short walk from Canggu Beach – so it's a wonderful location, too!
Best Hostel for Solo Travellers in Canggu – The Farm Hostel
$$$
Award winner
Two swimming pools
Friendly staff
Winner of the best hostel in the whole of Indonesia in 2018 and the best in Canggu in 2019, you're in safe hands here. The Farm is one of the best-known hostels in Bali, and it's on many travellers bucket lists. Bag one of the 80 beds and make use of the many features on offer. These include two outdoor swimming pools, lots of communal areas, and a cafe which serves drinks and food all day. The only thing that could make it better is a staff made up of friendly local people who can give you recommendations on the best-hidden gems nearby… Oh, wait – this place really is perfect.
$
Yoga shala
Capsule dorms available
Regular events
Good luck finding a youth hostel in Canggu cheaper than this one – at least, one where you'd want to stay! When you see the prices at the Hideout, you might be expecting nothing more than a place to sleep in a big dorm. However, get ready for a pleasant surprise. Hidden away in pretty Pererenan, make use of the swimming pool and yoga shala if you fancy doing something on site. Want a hand to break the ice with fellow travellers? Sign up to one of the awesome daily events!
Best Hostel for Couples in Canggu – The Palms Canggu
$$
Balinese style private bungalows
King-sized beds
Stunning surroundings
If you're travelling with your other half, a noisy and smelly dorm may not be what you have in mind. Lucky then that this boutique hostel offers Balinese private bungalows with your very own king bed! Once you're in the communal areas, you can still take advantage of the fantastic and friendly atmosphere that hostels are known for. There are lots of spots to chill out and socialise – whether you want to challenge your partner to a game of ping-pong or just lay back by the pool.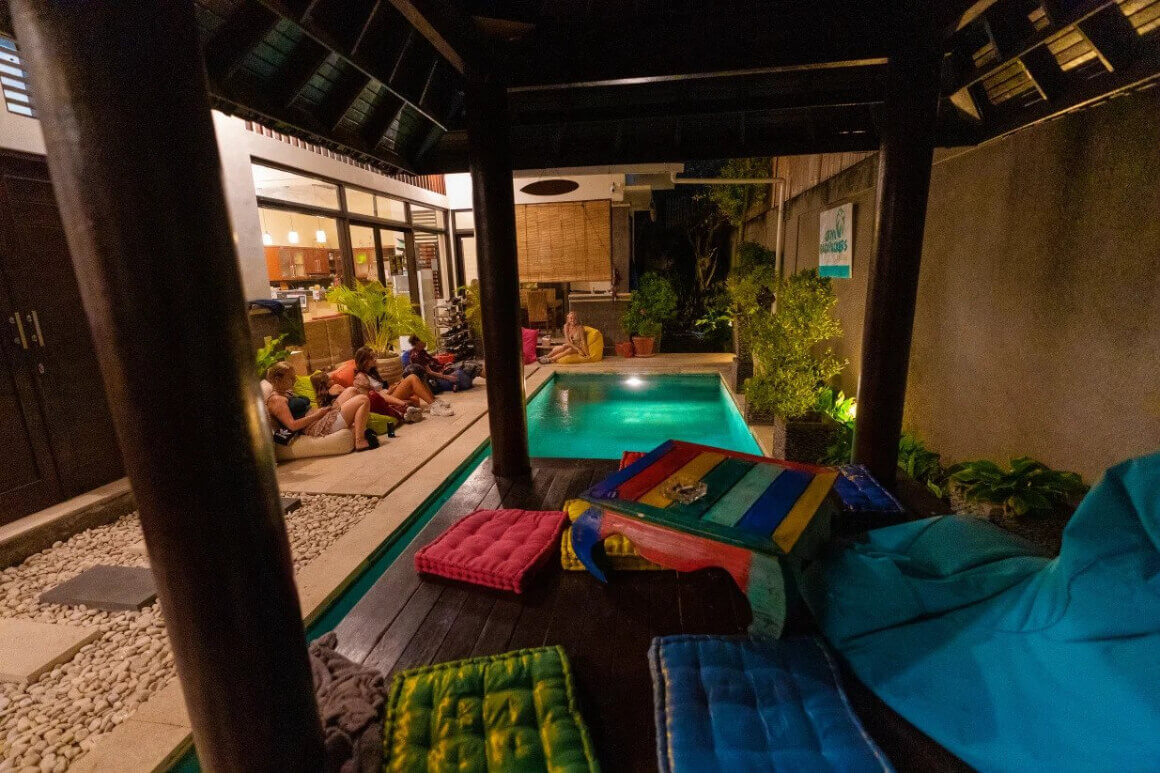 $$
Swimming pool
Free breakfast
Cafe on site
We'll level with you – you're not going to find an out and out party hostel in Canggu; it's not really the vibe! That's more for Seminyak and Kuta. However, being located right between Canggu and Berawa means that at least you have access to bars and cafes on your doorstep. This budget hostel in Canggu is good for meeting people, though – there are comfortable and chill common areas set around a pool. Breakfast is included too, which is the perfect fuel for a day of surfing or exploring.
Best Hostel for Digital Nomads in Canggu – Black Pearl Hostel
$$
Swimming pool
Fast Wi-Fi
Rooftop bar
Bali is one of the world's most popular locations for digital nomads, and it's not hard to see why. In Canggu, head to the Black Pearl Hostel, just 200 metres from Old Man's Beach. Not only do you have the beach on your doorstep, but some great cafes where you can boot up your laptop and work to your heart's content. Of course, you can do that at the hostel too; there's Wi-Fi and some communal areas where you can set up for the day.
Best Hostel with a Private Room in Canggu – Rhythm & Rumble
$$
Jacuzzi and Spa area
Pool with day beds
Cocktail bar
Looking for all the features of a luxury hotel but your budget won't stretch to it? Damn. You best just search out Rhythm & Rumble Hostel! With several double and twin rooms, you can have the privacy you desire but with a hostel vibe. Whatever you want from your holiday, you'll find it here. Those who want to keep fit can get involved with MMA, yoga, and boxing, but if you just want to chill – pull up a day bed by the pool. Even if you book a dorm room, you can get a capsule bed – so it is at least your own private space!
More Great Hostels in Canggu
$
Wonderful location
Surf lessons and trips
Bar and Cafe
Looking for a budget hostel in Canggu? Look no further than Yana Guest House. It's just two minutes away from Batubolong Beach – as well as a host of places to eat and drink. Not only is it cheap and cheerful, but warm, welcoming and intimate; in fact, there are only five rooms! So, best to book as quickly as possible to secure your place. If you want to surf, you can book lessons and trips from the hostel – which are suitable for all different levels.
$
Private rooms available
Swimming pool
Outdoor terrace
Another awesome budget hostel in Canggu is Canggu Castle. With an outdoor swimming pool, you can chill out if you're having a lazy day off from surfing and exploring the island by motorbike. Secluded on a leafy road northeast of Canggu Beach, you're close enough to all the action but far enough away to get a good night's sleep. There's a bar on-site, too, so you can enjoy pres here before a big night out!
$$
Swim-up bar
Pool table
Rice field views
Last but not least on our list of the best hostels in Bali is Clandestino. This beautiful hostel has plenty to get excited about, including a pool table and a swimming pool. And don't worry about getting out to your drinks – one of the bars you can actually swim right up too! In the evenings, head up to the rooftop bar to watch the sunset behind palm trees and rice fields. Perhaps you'll meet some other travellers up there and enjoy some games, or you could catch a movie or sports game on the projector.
What to Pack for your Canggu Hostel
We don't often travel without these essentials.
1. Power Bank: Showing up to a new city, after a 14-hour bus ride, with a dead phone and no directions to your hostel is a half-awake, messy nightmare. Putting a good power bank in your pack is the best and easiest way to keep your important electronics charged up for those long travel and sightseeing days.
2. Active Roots Microfiber Towel: Quick-drying, lightweight, super soft and compact – the Active Roots Microfiber Towel is essential for every backpacker. No need to use the scabby towels your hostel may or may not provide! Use it for drying off, as a yoga towel or even as a picnic blanket – the options don't stop here. Made of antibacterial material, you don't have to worry about your towel starting to smell unpleasant either after lots of use.
3. Universal Travel Adapter: Not every country has the same electrical plug style, so carry along a universal travel adapter. You'll want one that covers varying voltage levels, has protection from power surges, a fried laptop is not fun, and enough ports so you don't have to spend all day individually charging your devices.
4. TRTL Travel Pillow: Get rid of the red eyes and yawning with this TRTL travel pillow. It's not just a normal neck pillow (I mean, look at it!), the ergonomic design gives your neck and head so much comfortable support that you'll actually be able to have some decent rest.  Super easy to carry and clean, it takes up so little space compared to a traditional travel pillow.
5. Active Roots Water Bottle: Sturdy and durable, the Active Roots water bottle survives the roughest adventures while keeping your drink cold or hot for at least 24 hours. Vacuum-sealed and made from stainless steel, the bottle can fit 25oz, which is plenty to keep you hydrated. Super cool bonus: the bottle isn't just super useful, it helps to reduce the single-use plastic waste –  save the planet by filling up your bottle.
6. Noise-Cancelling Earbuds: These simple earbuds will help you out. Keeping out most of the surrounding sounds, you can either choose to listen to some relaxing music or no sound at all while falling asleep. This can be a life-saver in some unexpected party hostels. Make sure you're well-rested for the next adventures!
Final Thoughts on the Best Hostels in Canggu
Well, there you have it – those are the ten best hostels in Canggu. We've seen chilled out pads with swimming pools, spots where you can do sunrise yoga, and some that are just good old fashioned backpackers hostels, great for meeting people and relaxing into island life.
If you're still struggling to decide which hostel is best for you, go with our overall top hostel in Canggu – Tribal Hostel. Not only does it offer outstanding value for money, but it's also great for meeting people and finding fellow travellers to explore the island with.
Whether you're surfing on Echo Beach, remote working in one of the area's cool cafes, or using Canggu as a base for discovering Bali, staying in a hostel will make your budget go so much further. And that really is all from us. Have a wonderful vacation in Bali!
Don't forget to sort your travel insurance! We've put together a roundup of the best travel insurance for backpackers – check it out here, or if you're low on time, get a quote from World Nomads now, our favourite travel insurance provider.
Yay for transparency! Some of the links in this post are affiliate links. This means that if you book your accommodation through the site, The Broke Backpacker will earn a small commission at no extra cost to you. Your support helps me keep the site going.