Known as the Island of Gods, Bali is a popular destination in Southeast Asia – especially for those new to backpacking! The island has everything – from partying to praying and everything in between. It has a warm climate year round and is packed with plenty of excellent cultural highlights.
As a popular destination, Bali is packed with different accommodation options! Hostels are particularly popular with backpackers – but there are some excellent hotels and AirBnBs on offer across the island. The sheer number of choices available can make it difficult to plan your trip – as well as figuring out which cities are worth visiting.
We hope to make things a little easier for you with this guide, which goes over the 8 best destinations on the island. If you're only visiting for a couple of weeks (or less) then it's important to consider what kind of trip you want, so we've also categorised each area based on who they are best for – and included our top accommodation picks for each!
Whether you want nightlife, enriching cultural experiences or simply a calm getaway we have you covered. So let's just dive right into the best places to stay in Bali!
Quick Answers: Where is the Best Place to Stay in Bali?
Map of Where to Stay in Bali
Uluwatu – The Overall Best Place to Stay in Bali
Uluwatu is the largest town on the Bukit Peninsula – making it the perfect hub to explore this gorgeous part of the island! The entire Bukit Peninsula area is not as touristy as other parts of the island, however, it still has plenty of great attractions. This is our overall best place to stay because of the peaceful atmosphere and great connections with other larger destinations in Southern Bali.
Accommodation is spread out along the peninsula – with most of it around the Uluwatu part of the region. Tourism has picked up a little bit in recent years, and enterprising locals have taken the opportunity to create some excellent hostels, hotels and AirBnBs! This makes it a great town if you want to stay with a locally owned business rather than an international hotel chain.
Uluwatu is best known for its famous hanging temple. Whilst this is an incredible attraction, the Bukit Peninsula region is packed with undiscovered gems! The beautiful limestone cliffs bring some additional charm to the area, creating a scenic atmosphere with laid-back towns and friendly locals. There are also some excellent beaches with great surfing spots and a more serene atmosphere than the crowded spots elsewhere on the island.
The Best Places to Stay in Uluwatu
Uluwatu itself has some great local accommodations, whilst the surrounding area also offers a number of excellent options for those wanting a calm and secluded stay in one of the most up and coming destinations on the island!
Bali Beats Guesthouse is the best option if you want to stay on the Bukit Peninsula and explore everything this beautiful part of the island has to offer! Guests are rewarded with huge discounts on local tours and experiences, and the gardens surrounding the hostel are beautifully maintained and perfectly showcase the local flora.
Right in the heart of the Uluwatu countryside, Sumba Bungalow is an excellent choice if you want to kick back and relax for the majority of your stay! Not only does it have a large private pool, it comes with an outdoor kitchen area and a spacious bedroom with gorgeous windows overlooking the scenery.
PinkCoco Bali might only be a three star hotel officially – but the high quality of facilities and service make it feel like a much more luxurious getaway! It's only a short walk away from the beach, and each room comes with its own private balcony. They also provide an American style breakfast.
Canggu – Best Place to Stay in Bali for Families
Canggu is a small village in Southern Bali that has great links with the larger resorts in the region! For families, it provides a calm atmosphere without compromising on things to do that will keep both kids and adults entertained. There are multiple beaches available in the area, giving you options if you prefer somewhere quiet or somewhere with more activities.
This village has long been a popular choice with both expats and tourists, so there are plenty of accommodation options available! The centre along Batu Bolong Beach is the best option if you want to enjoy the many facilities available and great connections with other parts of the island – however, Echo Beach is another fantastic choice if you want somewhere quieter.
Beaches aside, there are plenty of other great reasons to visit Canggu! Batu Bolong, the main street running through the town, is packed with a vibrant culinary scene as well as some interesting locally owned boutiques. Those who enjoy fishing can hire equipment from the many facilities on offer, and there are also some excellent spas dotted around the town. It is only a short journey away from Seminyak, Kuta and Denpasar – keeping you well connected with the main resort areas.
The Best Places to Stay in Canggu
Hotels and hostels tend to be more laid-back in this area, with plenty of different options available. Whilst Canggu is definitely better for families, there are nevertheless come excellent options in the area for backpackers, couples and groups wanting to stay away from the party strips further south whilst still being within easy travelling distance for the occasional day trip.
A digital nomad dream, Tribal Hostel is the BEST hostel in Canggu for getting out of the crowds of Canggu into Pererenan. Overlooking lush views, with a glistening swimming pool, bar, cafe, HUGE coworking space and the option of dorm or private rooms, it has everything you could need.
This three bedroom house is perfect for families looking for a calm getaway in one of Bali's most popular resort towns! It has a unique design with a modern feel, and all of the rooms provide direct access to the pool in the centre of the villa. There is also a spacious lounge with streaming services and high speed WiFi.
Best Hotel in Canggu: The Slow
This four star hotel is a bit of an upgrade compared to our other picks – but is absolutely worth every penny if you want to splurge on a luxury experience! This is a good pick for small families in particular, with every suite able to house up to two adults and one child. They also offer suites that come with private pools.
Seminyak – Where to Stay in Bali for Couples
Located between Canggu and Kuta, Seminyak truly brings you the best of both neighborhoods! Whilst much livelier than Canggu, it has some calm getaways unlike Kuta. For couples, this gives you a good balance between quiet beach activities, excellent nightlife and unique shopping options.
Seminyak is one of the more upmarket neighborhoods in Bali, so accommodation here can be a little pricier than elsewhere on the island! That being said, it also comes with some elegant finishes that make the extra price worth it. If you're looking for a romantic getaway or the perfect honeymoon spot, Seminyak has plenty to offer couples that are willing to splurge.
Considered the spa capital of Bali, Seminyak is the perfect spot to unwind and indulge in a variety of holistic therapies! The retail offerings are also more varied, allowing you to pick up some great souvenirs, clothing and electronic goods. Much like the rest of Southern Bali, Seminyak is well connected to Kuta and Denpasar to the south – as well as Canggu to the north.
What's more – the beach here is calmer and more easy-going, with pristine waters for bathing and excellent sun lounger facilities! This is well and truly the place to kick back and relax on the island.
The Best Places to Stay in Seminyak
As a more upmarket option, Seminyak is best for those looking to indulge in luxury accommodation options whilst in Bali! There are plenty of hostels too – but these are better for backpackers looking for extra privacy. The hotels are ideal for couples, and there are still a few that cater to those on a stricter budget than others if you look hard enough.
When it comes to budget hostels in Bali, Stellar Capsules definitely provide the best value for money! They've struck a good balance between privacy and community, with each guest enjoying their own private pod within the dorms. They host daily social events where you can make friends with other guests.
AirBnB Plus is a range of apartments and villas that are hand-selected by the service for their stylish design and great facilities! This loft is an excellent getaway for a young couple wanting to splash out on a romantic break in Seminyak. The pink walls are surrounded with calming plants and a laid-back neighborhood.
Another luxurious four star pick, this ultra-modern hotel comes with a large pool surrounded by comfortable sun loungers and a classy decked terrace! Their guest suites are decorated in a calm, minimalist style and come with gorgeous views across the coastline. They provide a complimentary breakfast, as well as tour and equipment booking facilities.
Amed – Coolest Place to Stay in Bali
Up on the northeast coast of Bali, Amed is a strip of villages that are known for their relaxed atmosphere and excellent natural attractions! Though a fair trek from the major tourist strips of Southern Bali, Amed has some excellent beaches as well as the imposing Mount Agung nearby which is a popular tourist destination – especially if you are into hill climbing.
In terms of accommodation, Amed is similar to Uluwatu – options are spread out across the area and are generally locally owned! This gives you the opportunity to experience Bali through the eyes of locals, as well as contribute directly to the Balinese economy. With friendly owners, the hotels and hostels here are a great place to learn about Bali's undiscovered treasures.
Amed, in many ways, is a hidden gem in its own right! Once one of the tourist areas on the island, the Balinese government has worked hard in recent years to develop tourism infrastructure  – resulting in a truly unique destination in an otherwise touristy part of the world. With scuba diving zones, hiking opportunities and unspoiled beaches, there's a little something for everyone.
The Best Places to Stay in Amed
As the accommodation options are fairly spread out, we recommend researching transport links before making your decision! All of our picks are easily reached from the village of Amed itself – either on foot or by public transport. Amed has only recently developed its tourism industry, so we do recommend visiting with an open mind.
Ocean Prana is located right in front of the beach – perfect for soaking up the laid back atmosphere of East Bali! Completely surrounded by luscious forest, this hostel is truly a calm getaway – perfect for backpackers in Bali that want something a bit more peaceful than the party hostels of the south.
This calm local accommodation is located right on the beach – perfect for enjoying the laid-back vibes of Amed and getting to know the surrounding community. With two bedrooms, it is a great choice for families and groups looking for a well-priced place to stay. The host has superhost status.
Though fairly basic, this three star hotel is an idyllic getaway right on the coast! There is a large outdoor pool, as well as al fresco dining areas. They have ample parking facilities – perfect if you have opted to hire a car on the island. WiFi can also be accessed throughout the property.
Denpasar – Where to Stay in Bali on a Budget
As the capital and, indeed, only city to speak of on the island it might come as a surprise to discover that Denpasar is easily the most budget-friendly part of the island! Indonesia is already an inexpensive destination, however with most visitors flocking to the beach resorts and party towns along the coast Denapasar does not suffer from the inflated prices of the main tourism strips.
Likewise, the accommodation prices are very competitive in this area – and even the most upmarket hotels in Denpasar offer some excellent rates for budget-conscious visitors! As the main hub of the island, Denpasar is well connected to most other regions – making it an ideal base for exploring multiple destinations in Bali.
Whilst the city isn't frequently visited by tourists, there are still plenty of highlights worth discovering whilst in Denpasar! It is the main shopping region in Bali – especially if you are looking for more reasonable prices than resorts like Seminyak. Denpasar also has a diverse population, meaning it is packed with interesting cultural highlights and a vibrant culinary scene. Whether you want temples and palaces, or museums and galleries, the city has some great offerings for learning about the history and art of the island.
The Best Places to Stay in Denpasar
Most accomodation options in Denpasar are located along the main strip in the city centre, however, there are also some great options in the coastal part of the city! These are generally more laid-back than the central offerings but are nevertheless a little pricier due to their favourable location with tourists.
Like most of the hostels in Denpasar, Serangan Turtle Island Homestay is quite small – giving it a more intimate atmosphere! Located close to the waterfront, they provide regular shuttle buses to the harbour for guests, giving you easy access to the surrounding islands.
Another gorgeous AirBnB Plus property, this apartment is a great way to enjoy this premium service without breaking the bank! Located amongst the trees on the outskirts of the city, this calm accommodation is ideal for couples and solo travellers wanting to get away from the bustling city centre.
Best Hotel in Denpasar: Pondok Ayu
Located in the coastal area of Denpasar, this hotel is a little calmer than those in the city centre! It comes with a small pool and basic facilities – perfect if you just need somewhere to sleep at night and don't want to spend too much. They also provide a complimentary breakfast every morning.
Ubud – One of the Most Unique Places to Stay in Bali
Ubud is a collection of villages (which can often seem like a single town to visitors) in the heart of Bali! Though it is a very popular destination for tourists, it is well and truly one of the most unique parts of the island. This is where you can get up close with the island's traditions, history and modern culture – as well as discover some of the most beautiful natural sites in Bali.
As one of the most popular tourist destinations, Bali has a wide array of accommodation options to suit basically every budget, travel style and party size! The villages that make up the area are close together, and most of them can be reached on foot. There are also plenty of transport links to the resorts in the south as well as the quieter towns elsewhere on the island.
By far one of the most popular activities in Ubud is temple hopping! The various villages are home to a high concentration of both modern and ancient temples waiting to be explored. Ubud is also where you will find some of the best rice fields – as well as plenty of other scenic delights. The area has long been a popular destination for yoga enthusiasts, with plenty of options available across the different villages as well as in many of the hotels.
The Best Places to Stay in Ubud
The wide array of accommodation options available in Ubud can be both a blessing and a curse. Regardless of your needs, you will find something in this area – but the sheer variety on offer can be overwhelming. For our top picks, we've tried to reflect the overall atmosphere of the area and gone with laid-back options that offer a little something extra!
Not only is Ubud Rice Field House our top pick for Ubud – we also consider it our top hostel on the entire island! Located right next to the famous rice fields, guests are given the opportunity to enjoy some yoga on the balcony in the mornings.
Only a short walk from Ubud Market, this AirBnB plus property is perfect for exploring the local culture and history of Ubud! The villa has its own private tropical garden, as well as a small heated pool. A 200 metre walk from the nearest road, it is a fairly secluded accommodation though they can help carry your luggage.
This hotel is only a short walk from one of the most popular temples – and comes with excellent facilities and levels of service despite its reasonable prices! Rooms are fully air conditioned and come with satellite TV as well as high speed WiFi access. They have parking facilities on-site for those arriving by car.
Negara – Where to Stay in Bali for Adventure
Negara might seem like a sleepy village on the surface – but the lack of tourism in West Bali makes this by far one of the most adventurous options! If you're used to travelling off the beaten path and want to avoid the tourist throngs in the south, Negara offers some fantastic adventure travel options and is a great way to discover a more authentic side to life in Bali.
With it being so far from the usual tourist resorts, accommodation in Negara can seem pretty basic at first glance! It is almost always locally owned, and reflects the authentic atmosphere of the neighborhood. That being said, look beneath the surface and you will find some real hidden gems.
Though Negara doesn't have many of your typical adventure activities, it does come with some excellent local experiences! Hop on board a traditional fishing boat, check out the fortnightly buffalo races or get to know the locals in some of the most secluded villages on the island. These activities can seem intimidating to newbie travellers, but are well worth it if you are willing to get out of your comfort zone and explore an authentic side of Bali.
The Best Places to Stay in Negara
Negara is a relatively new destination in tourism terms – and still has an off-the-beaten-path feel to it! This means that many of the hotels are spread out across the West Bali region, though we have aimed to include the best options within reasonable distance of Negara itself.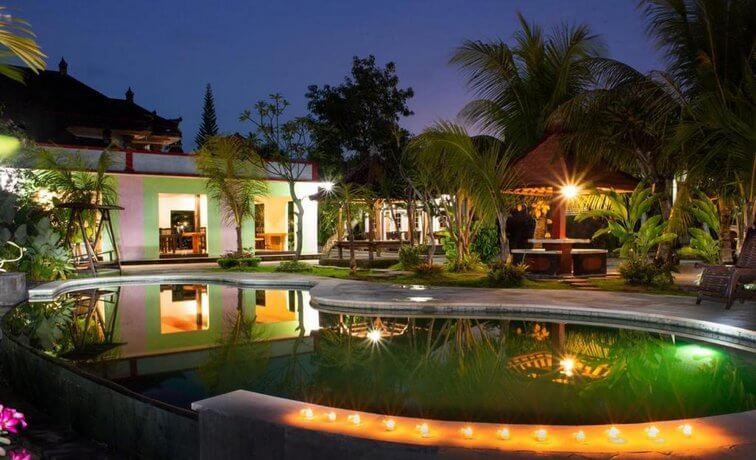 Though more of a collection of villas than a hostel, Puri Dajuma Cottages come with a community atmosphere – perfect for backpackers wanting to mingle with others whilst staying in this off-the-beaten-path neighborhood! Each suite comes with sea views and full access to recreational facilities.
Tunjung Sari offers three villas close to Negara, with this particular bungalow being a great option for couples and solo travellers! They have a few facilities on-site, including bookable massage therapies and daily tour offerings. If you are visiting with a larger party, they also have bigger spaces available.
This is the closest option to Negara – located right in the heart of the town! Though fairly basic, it offers some great facilities to ensure a comfortable stay. They provide a halal breakfast every morning, and there are parking spaces on-site for guests arriving with a car.
Kuta – Best Place to Stay in Bali for Nightlife
If your main reason for visiting Bali is to soak up the party atmosphere, chances are the place you are thinking of is Kuta! This is truly the heart and soul of Balinese nightlife, and has the best selection of tourist facilities. Whether you want to join a pool party during the day, enjoy the beachside activities or hit the best clubs on the island, Kuta is the place to unleash your wild side.
Like the rest of Southern Bali and Ubud, Kuta is packed with a good selection of hotel options! As the main party district you will be hard pressed to find a calm and laid back hotel, but for those wanting to party there are some fantastic options to suit a wide range of budgets.
Nightlife aside, there are plenty of other great attractions in Kuta! The beach is, of course, the heart of the town and a good spot for surfing and other water sports. There are also some hidden gems, including the nearby mangroves that make interesting natural attractions. As the largest tourist resort, Kuta is well connected to the rest of Southern Bali and Ubud.
The Best Places to Stay in Kuta
Kuta has a great variety of hotels and hostels on offer – but as the main nightlife town, we've gone for the best options for partygoers! You want to stay near the main strip in Kuta to ensure you get to enjoy the best of the city's nightlife.
Cara Cara Inn runs daily pool parties where you can enjoy cheap drinks, pool floats and a variety of different music styles! Rooms are cleaned every day, and come fully air-conditioned. Breakfast is included, and high speed WiFi can be accessed throughout.
Much like Tunjung Sari in Negara, Poppies Cottages is a collection of four separate villas for guests to stay in! They all come with one bedroom each – though multiple villas can be booked at once for larger groups. This is great if you want the privacy of an AirBnB whilst still enjoying a sociable atmosphere.
Though a fairly basic hotel, Yan's House is located right on the main strip in Kuta – perfect for getting to the heart of the most vibrant nightlife scene on the island! A continental breakfast is provided every morning, and there is a small pool in the centre of the hotel.
Top Places to Stay in Bali
With a variety of different locations across the island, it's no wonder that the accommodation options are just as diverse! If you don't mind what area you stay in but want to make sure you have a great hotel, hostel or AirBnB these are our top three picks from across the island.
Located right next to Ubud's famous rice fields, this hostel lets you experience one of the island's best known attractions without having to leave the building! They run regular events, including morning yoga on the balcony with views across the Ubud landscape.
This AirBnB Plus villa might be part of their premium range, but thanks to its location in Denpasar it comes with reasonable prices! A truly calm getaway, it is only a short trip away from central Denpasar but feels like a world away. This is great if you want to stay well connected to the busier resort towns whilst still enjoying peace and quiet in the evenings.
PinkCoco Bali gives you the best of both worlds as far as hotels are concerned – rooms are affordable, but come with excellent facilities that ensure you have a comfortable stay! As well as the private balconies, the rooms are fully air conditioned and come with kitchenette facilities. They also offer hire services on adventure activities and watersports.
Final Thoughts on Where To Stay in Bali
Bali is a diverse island with a wide array of activities on offer! Whether you're looking to party, explore the luscious nature or unwind at the beach, you can find whatever you're looking for in Bali. It's no wonder that this is one of the most popular destinations in the world.
In terms of the best area, we can't just pick one – it really depends on what you're looking for! Kuta, and the Southern Bali region in general, are perfect if you want great nightlife, comfortable facilities and a wide selection of tourist activities. If you head further north to Ubud and the remote coastal villages you will discover something a little more unique – and we definitely recommend these places if you've visited before.
We hope this guide has helped you to plan your itinerary for your upcoming trip to Bali! Whether you opt for Kuta or Uluwatu, we're sure you will have a great time on this truly mesmerising island.
Do you own or run a kick-ass hostel? Want to be featured on this list? Get in touch at [email protected]
Don't Forget Travel Insurance for Bali
Shoutout from Will – The OG Broke Backpacker: Have fun on your backpacking adventure, but please do get insurance – take it from someone who has racked up tens of thousands of bucks on an insurance claim before: you need it.
As a wise man once said, if you can't afford travel insurance then maybe you shouldn't be traveling! Presenting The Broke Backpacker's top recommendation: World Nomads!
Yay for transparency! Some of the links in this post are affiliate links. This means that if you book your accommodation through the site, The Broke Backpacker will earn a small commission at no extra cost to you. Your support helps me keep the site going.