The tropical island of Bali is on many travellers' bucket lists – and it's easy to see why! Home to more than 10,000 temples, white sand beaches with turquoise waters, and epic volcano hiking, there's a lot to see and do.
With so much to put on your Bali itinerary, you won't want to stay in one place. But considering public transport is lacking on the island, what's the best way to get around? Well, there are scooters, but they can be scary and dangerous for a first-time traveller, especially for long distances. If you have lots of ground to cover, it might be your best bet to look at renting a car in Bali, or hiring a driver for your stay.
With our guide, you'll not only get lots of car rental tips but useful and important information about driving in Bali and the best places to travel to!
Should you rent a car in Bali?
If you're travelling to Bali, there are a few things you need to consider when it comes to getting around around the island. Cost is always important, but safety is too. And most importantly, you're on holiday – so you might want to opt for the lowest-stress option.
In comparison to a scooter, travelling by car is easier, safer, and more comfortable. Also, if you haven't ridden a scooter before it can be quite intimidating doing so for the first time against Balinese drivers and packed traffic.
So, while a scooter is cheaper, it's not always the best option. If your budget is on your mind, you'll be pleased to know that the cost of renting a car in Bali is fairly inexpensive compared to other locations like Australia, the USA, and Europe.
Of course, it's possible to take a taxi, but this can end up extremely expensive, especially if you're taking multiple trips around the island! It's much easier to either rent a car from an agency or find a private driver. You can agree on a price beforehand rather than having to constantly shell out taxi fees.
So, our answer is a resounding yes – you definitely should consider renting a car in Bali!
Why rent a car in Bali?
There are so many reasons to rent a car in Bali! Travelling with friends or family? It's an easy way for everyone to travel together without breaking the bank. It also means that you've got the complete freedom of the open road. See something cool that wasn't on your original itinerary? No problem! Renting a car in Bali means you can be flexible!
Another bonus of renting a car in Bali comes with how much extra luggage you can carry around. If you're travelling heavier (or picking up lots of souvenirs), the boot will be a handy storage spot.
Plus, when it comes to road trips, Bali has some incredible options! Think beaches, temples, and getting properly off the beaten track. It's so good for road trips, that further on in the article, we're going to recommend some of our favourite road trips in Bali. You're welcome!
Hiring a Driver vs Renting
Now, it's time to decide between renting a car in Bali to drive yourself, or to be chauffeured by a private driver. How very fancy! One of the main considerations it comes down to is how confident you feel driving in a different country, especially when non-main roads can be rough and traffic can be extremely hectic!
Hiring a Driver in Bali
Hiring a driver and car is very easy, and it's a great option for those travelling in a group. Although listening out for an offer of 'transport' in the tourist areas will find you a driver pretty easily, it's probably best to go off personal recommendations or to find out from your hotel, hostel, or Airbnb. This increases accountability and means you're less likely to end up over-paying!
The average price of renting a driver, car, and fuel for a day is between 500,000RP ($36 USD) – 800,000RP ($58 USD). Tips are not included, and it's common to give the driver some money for lunch – they're unlikely to eat with you. If you're in the market for a driver, we'd recommend starting with Bali Hire Driver. 
You should talk with a few drivers before making your final decision. It's important that you get on well with the driver and their English is good enough to communicate on any changes you'd like to make during the route.
Drivers often want to please you and show you the best of Bali. If you want to avoid tourist traps and restaurants – just tell them!  Make sure to tip your driver accordingly at the end of your journey – it's only polite.
Pro Tip: WSort out your transport with Made (MAH-day). He arranges cheap airport transfers, tours and bike rentals. I've used him for years now! Arrange your rental or pickup with him on WhatsApp: +62 813-3824-9193
Renting a car in Bali
Renting a car to drive yourself in Bali is a great way to see the island. Around the tourist centres, it's not hard to find rental and travel agencies – we'll get back to that in a minute.
The most popular type of car rental in Bali is a small 4 wheel drive – like a Suzuki Jimny. Prices are likely to start at around 200,000RP per day ($15 USD), but the following days will be cheaper. For that price, normally you'll get unlimited mileage and basic insurance.
If you're not used to driving an off-roader, don't worry. They're the best option for exploring the rough backroads of Bali, as long as you can handle a manual transmission. Automatics are pretty much unheard of here!
If you plan to rent a car in Bali for your own personal use, there are a few things you need to have. Most importantly is your international driver's permit (IDP) – if you're stopped while driving, you'll need this! If you have a normal license, it should be easy to get an IDP from your home country's driving organization, such as the DVLA in the UK. While on the subject of your home country, bring your licence from there too!
Not carrying an IDP? You run the risk of at least a 50,000Rp fine (around $4USD). The fine may not put you off, but the hassle of dealing with the Indonesian police should. Trust us, you want to avoid that if you can.
Rules of the Road
For those who are new to driving in Bali, it can seem a bit intimidating at first. You'll definitely hear a lot of horns! However, horns are generally not used to be aggressive here – more of a way to let you know someone is there.
You may not use your horn much at home, but it's time to change your driving style if you want to survive here! Use it to warn other road users that you're there, especially when coming around a tight corner or when you're about to overtake.
Like the UK, Japan, and Thailand, Indonesians drive on the left. So, make sure you do! Drivers in Bali often won't look before during left, they'll just listen for a horn. You also need to watch the front of your car, as scooters move quickly around cars on the road. It's up to you to avoid hitting anything in front of the vehicle.
You may feel you're obeying the rules of the road in Bali, but one of the things that you'll still have to look out for is the traffic police. They can stop you for the littlest thing. And as a tourist, you're unlikely to be able to get out of it.
The best advice? Keep your cool. They'll probably say you've committed a serious offence, even though you know you haven't. Stay cool. Don't bribe. When they say you can pay them an amount of money, tell them you don't have much. Usually, a 'fine' will be somewhere between 10,000RP – less than a US dollar, and 100,000RP – around $7. However, if you argue or are aggressive, that fine will be a lot more!
Best Car Rental Companies in Bali
So, now you know about how to rent a car in Bali, it's time to take a look at where to rent it from. There's so much choice on the island, but not everywhere is as reputable and reliable as the next.
If you want to get everything signed, sealed, and delivered before you arrive, then Avis Bali is a great option. You can reserve your car then pay on arrival. If you'd prefer to wait until you arrive to find your rental car, Bali Car Rental and Bali Car Hire are two of the most reliable companies on the island.
Later in the post, we'll give you some more advice, specifically focused on where you're staying.
Driving on a Bali Road Trip
In this section, let us introduce you to some of the most epic road trips in Bali! If you're still not convinced about renting a car, seeing the beautiful locations and awesome places you can stop off will hopefully make your mind up!
Ubud > Manikliyu Village > Kintamani
Starting off your Bali road trip in Ubud? Good, here's a great way to see one of the island's treasures – Mount Batur.
The regular route from Ubud to Mount Batur is thronged with busy traffic. Not only will it take you longer to make your journey, but it'll be more stressful too. But that problem disappears with this gorgeous route through the Manikilyu. Well, at least after the first 10km –  you do have to take the regular road from Ubud.
Turn off towards Payangan Town. After Payangan, be prepared to pass a small bridge and through a river gorge. You'll pass small villages where there are some small turns to make. Keep looking for signs towards the Manikliyu Road.
Thankfully, the roads heading up Mount Batur are not like those on the Singaraja side. Hairpins are much less common, which makes the drive a lot easier! Continue north towards Mount Batur until you arrive in Kintamani. Then, park up and explore the area around one of the most beautiful volcanoes in Indonesia! Many people climb this volcano for sunrise and there are few experiences in Bali as breathtaking as this.
Singaraja > Kintamani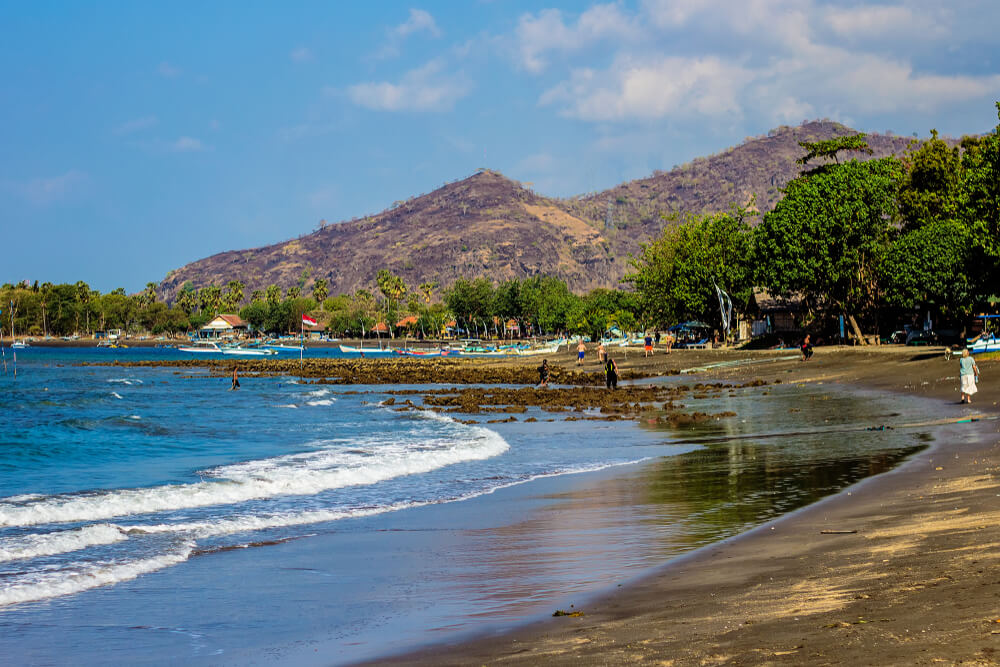 If you want to travel to Kintamani but you're staying on the north coast of Bali, this might just be for you. A 40km journey will take you from the town of Singaraja to the crater rim of Mount Batur.
It's more technical than the route from the south, with hairpin bends winding their way up the hills through traditional villages and past roadside temples. Make sure to stop every so often and take in the incredible views of the North Balinese coast!
Be sure not to miss the highest temple in Bali – Puri Penusilan. There's an entry fee, but it's well worth it!
The road is well-signposted, but you're not likely to come across much other traffic on the route, meaning that you can just sit back and enjoy the ride! Although… if you're driving it is best to concentrate!
Denpasar > Bedugal > Lovina
This is another great road trip if you're staying around Kuta. And it's easy to get on the road from Ubud too! This one traverses the island from south to north, and there are several cool things to check out on the journey!
Take the road to Bedugal, which is one of the coldest areas of the island. But don't panic, it's Bali. You'll still be sweating in a t-shirt! There's lots to check out here including botanical gardens.
Then, it's on to Lovina. But remember, road trips are all about the journey, not the destination! Don't miss a stop at the Aling Aling waterfalls nor a dip in the Secret Garden pools. At your final stop in Lovina, decide whether to return home or stay overnight and spend some well earned time on the beach!
Kuta > Candidasa > Amed Beach
The towns in Southern Bali are a lot of fun, but where can you go when you want to escape from the hustle and bustle? If you're staying in Kuta, this awesome Bali road trip shouldn't be missed!
Point your vehicle east out of Kuta. Your first stop is the gorgeous seaside village of Candidasa. Stop here for a little while and enjoy a number of attractions – including Candidasa Lotus Lagoon, the Besakih Temple, and Taman Tiragannga – a tranquil former royal palace and temple with public water gardens.
And don't miss your chance to take a walk along the shore. It's lined with volcanic rocks and there's a pretty pavilion where you can take in incredible views of the surrounding coastline!
Continue along the coast of the island until you reach Ujung Water Palace, a royal complex dating back to the Dutch colonial days.
Carry on north along the road after the water palace for stunning views from the hairpin bends! You're likely to be the only car on the road until you reach Amed Beach in time for the sunset! From here, you can choose to stay overnight, or head back via Mount Agung!
Amed > Rendang
Our last Bali road trip recommendation is from Amed (where we left you previously) to Rendang. Turn away from the island's coast and head inland. You'll pass through rice fields and tiny villages before reaching the town of Sibetan.
From there, the road will start to climb over mountains and through forests, and then further west into ravines. There certainly are a lot of ups and downs! You won't want this road trip to end before you reach the town of Rendang.
On top of the scenery, there are tons of activities like nearby white-water rafting.
Car Hire at Bali Airport – DPS
Looking to rent a car straight away at Ngurah Rai International Airport? There are a few companies that can help you out. Avis Bali offers cars like the popular Toyota Avanza. Their rates are advertised online at $162 USD per day. You can pay on collection! Although that may seem like a lot of cash, there's space for 5 in the car so you can easily split it between a group. And sometimes it's worth paying more for a reliable and trusted global company!
There's also TRAC Astra Rent a Car which offers 4-seater superminis and 6-seater people carriers. One of the best-reviewed local services, Bali Car Hire also has a branch at Ngurah Rai International Airport.
Rent a Car in Kuta
Looking to rent a car in Kuta? There are several rental companies in the area. One of the highest-rated is Auto Bali Car Rental. Here, there's a large selection of manual cars and even some autos too. You can also check out prices for renting a driver!
Prices for self-drive car rental start at $12 USD for a small 4×4. For a car and an English-speaking driver, prices are added to the fee of the car. It's usually $10 for a driver and $15 for a guide.
Rent a Car in Seminyak
If you want to rent a car in Seminyak, you're once again presented with a wide range of options. It's not a bad idea to shop around once you arrive, but there are lots of places with bad ratings or no reviews at all!
Amertadana is a safe and reliable option for car rental in Seminyak. It offers cars, drivers, and scooters, in case still haven't convinced you a car is better! Prices start from $17 for a supermini-style car. Hiring a driver here will cost you an extra $40, while you can add on GPS and babysitting options too.
This company also offers tour packages, if you want the full works!
Rent a Car in Canggu
For those who are looking to rent a car in Canggu, there's a huge choice of reliable and highly rated companies. You really are spoiled for choice! The best places to rent a car in Canggu include Bali Car Rental, who we've already mentioned, Auto Rental Bali and Echo Bali Rent Car.
Prices for self-drive car rental are competitive, with the lowest price being around $15 per day for a Suzuki Jimny Katana. When it comes to drivers, prices vary a bit. Some companies have separate charges for car and driver, while some combine the two into a package deal – shop around for the best price, as they're changing all the time!
Rent a Car in Ubud
Last but not least, let's take a closer look at renting a car in Ubud. Again, there's a lot to choose from. However, if you want to take a look and get an idea before you travel, only a few have websites. Check out Bali Cheap Car, Darma Putra Bali, Bangkok's Car Rental, and Bali Transport Service.
In Ubud, rentals normally start from about $15 USD for a supermini. Again, driver costs vary for each company, but Bali Cheap Car offers custom made tours that will give you a real insight into Balinese life!
Final Thoughts on renting a car in Bali
So, those are all the car rental tips and useful information we have if you're travelling to Bali! Renting a car in Bali can be a great way to see the island, especially with a family or group. We love that so many cars come with the option of a private driver, too.
Not only that, but there are lots of reasonably priced options, and you'll find it much safer than riding a scooter.
Now, it's time for us to be off. But you're welcome to carry on through our website to find out loads more useful travel hacks for Bali!
Yay for transparency! Some of the links in this post are affiliate links. This means that if you book your accommodation through the site, we will earn a small commission at no extra cost to you. Your support helps keep the site going.